Do you believe it's impossible to live multiple adventures in Tulum just in a few days? It's true that there are many different things to do in Tulum during a holiday trip, but enjoy the most of them it's not a hopeless cause at all.
Marvelous white-sand beaches, multiple archeological sites, lagoons, cenotes and caverns are just some of the many reasons why this dream-city has become so popular over the last few years.
There is a huge variety of attractions but also many non tourist things to do in Tulum that you'd like to give them a try, especially if it's your first time visiting this trendy seaside town.
The greatest things to do in Tulum in 2021
As good travellers, we know you'd like to enjoy as many experiences as you can, so now we show our top 12 things to do in Tulum, which includes expeditions to the most popular places, but also other non tourist activities to spend a great time with your partner or family.
1. Dive into the magical cenotes
Definitely a must thing to do in Tulum is exploring the deep cenotes, freshwater sinkholes surrounded by lush green forests.
Tulum is full of these natural wonders, but you'll be able to enjoy such unique experiences if you join us to discover the bleakest ones.
Here in My Quest Concierge, our private detective has explored more than 300 cenotes in search of the most pristine.
That way, you'll live a VIP adventure, diving into the sparkling waters and also taking awesome pics with no crowds around you.
2. Relax in the Laguna Kaan Luum
Speaking of cenotes, one of the most outstanding ones in Tulum is Laguna Kaan Luum, which is famous for its huge size and its well-distinguished two shades of turquoise.
This gorgeous setting is excellent for swimming too, but you can also take a mud bath in the mud from the shores of the cenotes. It's important to say that the mud is believed to have health and beauty benefits.
So, if you want to enjoy a spa experience in the middle of nature, visiting this place must be on your list of things to do in Tulum.
3. Explore the Tulum ruins
The Tulum ruins are a truly beautiful setting and one of the top attractions of this city.
This archaeological site provides a mix of leisure and history. These are the only Mayan ruins located in front of the Caribbean Sea, so after exploring them you can head down to the nearest beaches to swim or just lie on sun beds among palm trees.
Most of the time, the ruins get full of crowds. So if you want to enjoy the splendor of the ruins to the fullest, you'd better book a private tour to Tulum.
4. Spend a day in Sian Ka'an Biosphere
Another dazzling place you cannot miss during your next trip to Tulum is the Sian Ka'an Biosphere Reserve.
Here you can find a large marine section bordered by tropical forests, mangroves and marshes. Besides, the reserve is home to at least 23 known archaeological sites of the Maya civilization, and hundreds of different species of birds.
It's surely a must thing to do in Tulum if you're a green conscious traveller looking for some jungle adventures.
5. Enjoy the nature of Tulum beaches
One thing that distinguishes Tulum from other cities in Mexico is that its beaches are pure nature.
The sugar-white sand, the emerald colour of the sea and the vegetation seem to blend organically with the rustic and bohemian style of the city. In fact, there are also many beaches to choose from.
Tulum beaches are much quieter than others so they're the perfect place to relax, take a cocktail, lounge under a parasol and enjoy the sounds of the sea.
6. Join a fauna exploration
Since Tulum is plenty of them, walking in the surroundings of jungles is a perfect trip for families.
In the jungles, parents and kids can appreciate the magnificent green foliage but also the exotic fauna. In the Akumal Sanctuary, for example, you'll meet cockatoos, squirrels and spider monkeys, whose sounds will definitely astonish the whole family.
If you're lucky enough, you'll be able to take some pics with these fascinating beings.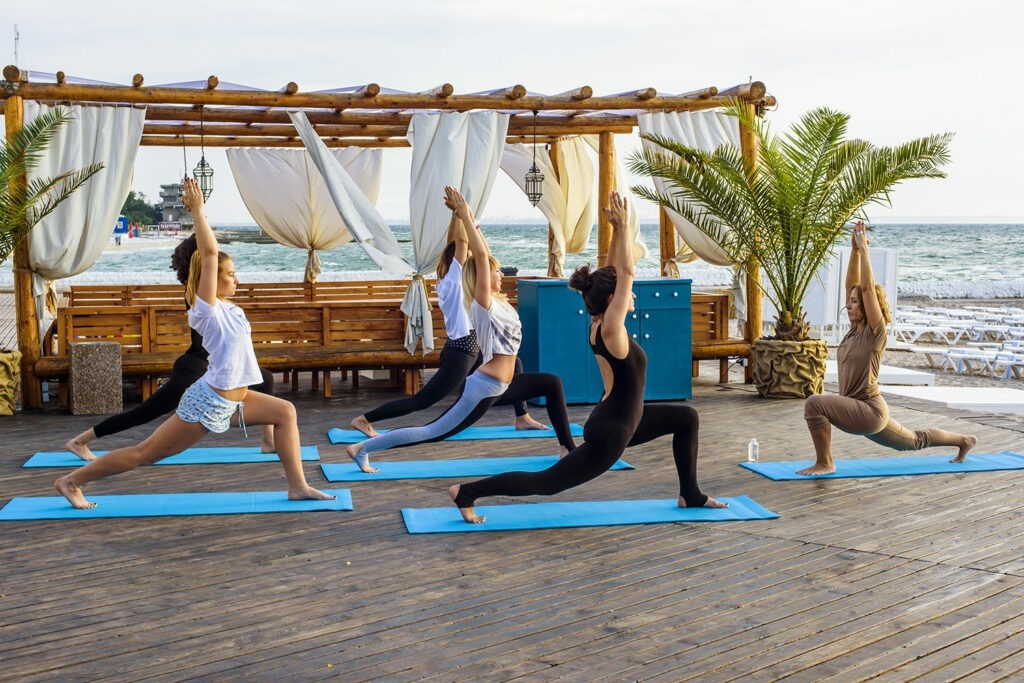 7. Try yoga on the beach
Starting with the non touristy things to do in Tulum, practicing yoga on the beach is a perfect activity for couples or just for yourself.
It's true that beachfront yoga classes are very popular, but you don't need to book a tour to enjoy this holistic health experience.
Actually, you may find yoga lessons occurring everywhere and its prices are something you don't have to worry about.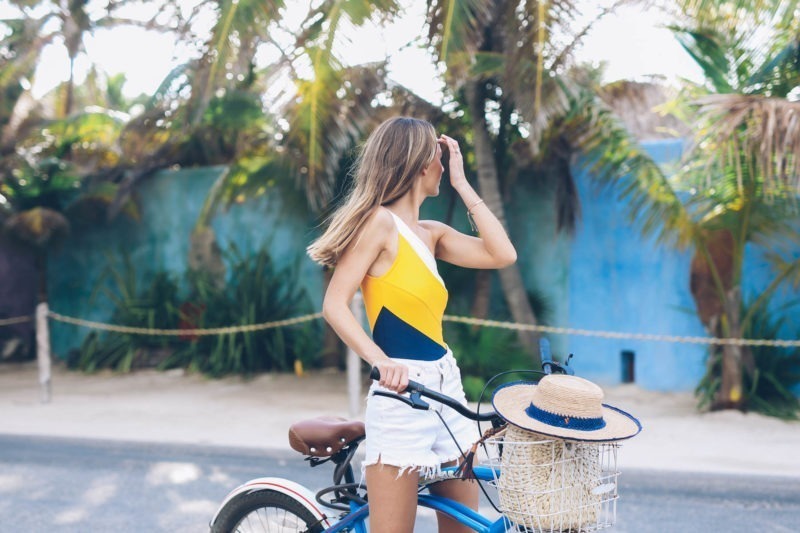 8. Ride Tulum on a bike
As soon as you arrive in Tulum, you'll notice there are bicycles all over the place.
Renting a bike is an affordable thing to do in Tulum and an eco-friendly way to go from place to place feeling the breeze.
This way, you'll have some peaceful rides along the beach. Just make sure you check with your hotel if they have bicycles before renting one.
9. Take a mural tour
Tulum is popular for being home to street artists of all kinds.
So, an excellent thing to do in Tulum is walking through the main avenues to gaze at its beautiful, colourful murals.
They're dotted in very different parts of town, and since new murals are being painted frequently, this will always be a unique experience each time.
10. Taste the exquisite local food
In Tulum you'll easily find several fancy restaurants with excellent menus.
However, if you want to have an authentic culinary experience, you'd better try the variety of traditional food which is served in the local eateries of the city.
Street tacos, panuchos and tamales are some of the incredible and tasty food you should eat at least once during your trip.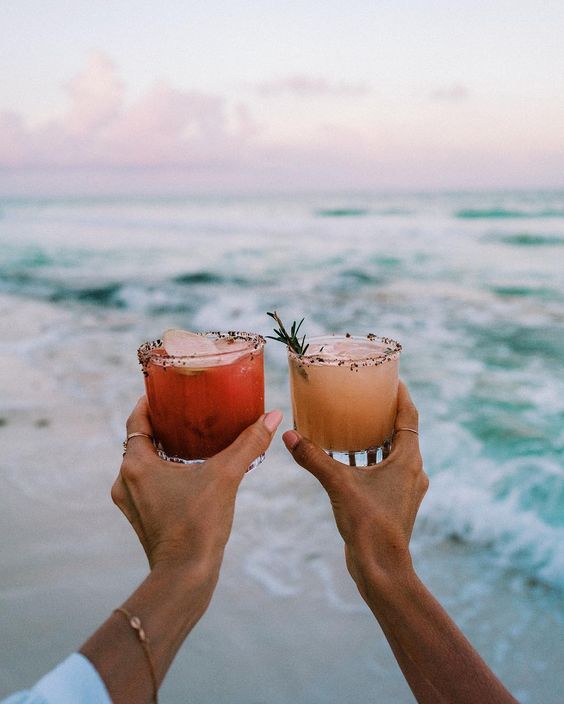 11. Have some drink by the sea
Tulum beaches are also great places to enjoy some drinks while watching the sunset.
Here, you can find some excellent bars with delicious cocktails, happy hours and both views of the seacoasts and the jungle.
These bars are also perfect if you're looking for things to do in Tulum at night.
12. Go on a romantic date by candle lights
This last recommendation is for the travellers in love.
Because Tulum preserves its rustic charm, you'll find many local restaurants in which you and your partner might taste flavourful dishes and amazing cocktails by candle lights.
The best thing is that you'd have this special dinner both on the beach or in the jungle since these romantic places are all over the city.
Some extra help before you discover the wonders of Tulum
As you can see, there is a wide variety of things to do in Tulum and so many places to discover. So, don't forget:
You might need as much time as possible, so make sure you aside several days of your holiday for this wonderful experiences.
If you want to avoid the crowds, you'd better start your itinerary as early as possible.
You'll live such memorable adventures, so don't forget to bring a camera with you to capture every moment.
Also, you must carry with you the best swimming and snorkelling equipment, as there are many water activities to do and you won't want to miss them.
Now that you're ready to roam around Tulum, make your experience unforgettable
If you really want to live all these experiences in the shortest time, the best thing you can do is trusting those who know best.
Our local experts have dedicated themselves to exploring every corner of Tulum to offer you a unique adventure.
Together with them, you can design your own private tour, with the stops of your choice and with no long queues. Come and enjoy the time of your life here in Tulum.