Paradises on earth? Bacalar Lagoon is definitely one of them.
Despite the stunning display of its colorful waters, the adorable hammocks hanging over the water and the magical vibes this beautiful place transmits, it's a little bit surprising that not many travelers know about this nature's hidden gem.
If you are searching for the most unique places in Mexico, Bacalar Lagoon cannot be missing on your list of sites to explore.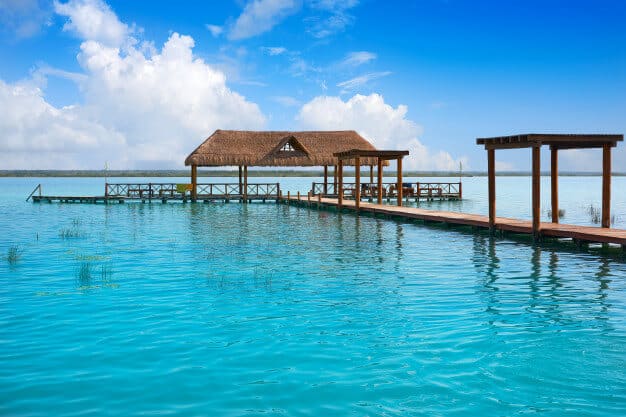 Why should I travel to this wonderful destination?
Laguna Bacalar has become one of the best alternative vacation attractions in Mexico. The beauty of its waters is such that many consider it the Maldives of the Caribbean.
Also known as the "Lagoon of Seven Colors", this place offers a spectacle to behold: as the hours go by and the sun sets, the lagoon's waters show multiple varieties of blue tones, letting you witness unique sceneries in a single day.
Unlike other popular tourist destinations in Mexico, in Bacalar city it would be easier for you to experience true adventures in connection with the locals and their calmer lifestyle.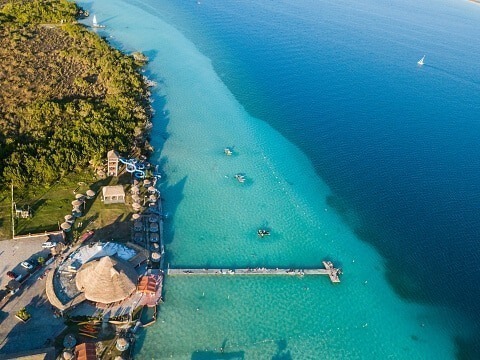 How do I get to Bacalar Lagoon?
Located in the state of Quintana Roo, in the eastern part of the Yucatan Peninsula, Bacalar Lagoon is located 2 and a half hours from Tulum, five hours from Cancun and also five hours from Merida.
As in other parts of Mexico, you have many options to get to Bacalar Lagoon. For example, you can rent a car, either from Downtown Tulum or from the outskirts of Cancun Airport.
If you are not a fan of driving on your own, you can hire a local private driver or even take the different bus services which take you directly to Bacalar.
However, if you're already planning to travel to any of these other cities in the Yucatan Peninsula, your best choice is to take a private tour from these places and dedicate a whole day of your itinerary to visit the lagoon.
Bacalar Lagoon: where should I stay?
Certainly, the distance issue is one of the reasons why international tourists do not usually consider Bacalar as their first choice for lodging.
However, in Bacalar you can also find beautiful accommodations with a much more rustic and traditional style. In addition, many of the hotels are within six miles and some have their own access to the lagoon.
There are many places you can explore apart from Bacalar Lagoon, so it all depends on your time. If you are looking for a quick visit, you can stay directly in Bacalar.
But if you have more time and your goal is to see as many of Mexico's tourist attractions as possible, the greatest idea would be to stay in a larger city and add Bacalar to your list of destinations.
Things to do in Bacalar
Mexico's most popular tourist cities are known for offering many options to have fun and live multiple adventures. Obviously, Bacalar is not the exception.
Bacalar Lagoon alone is the main attraction here, but this peaceful town has much more to show us.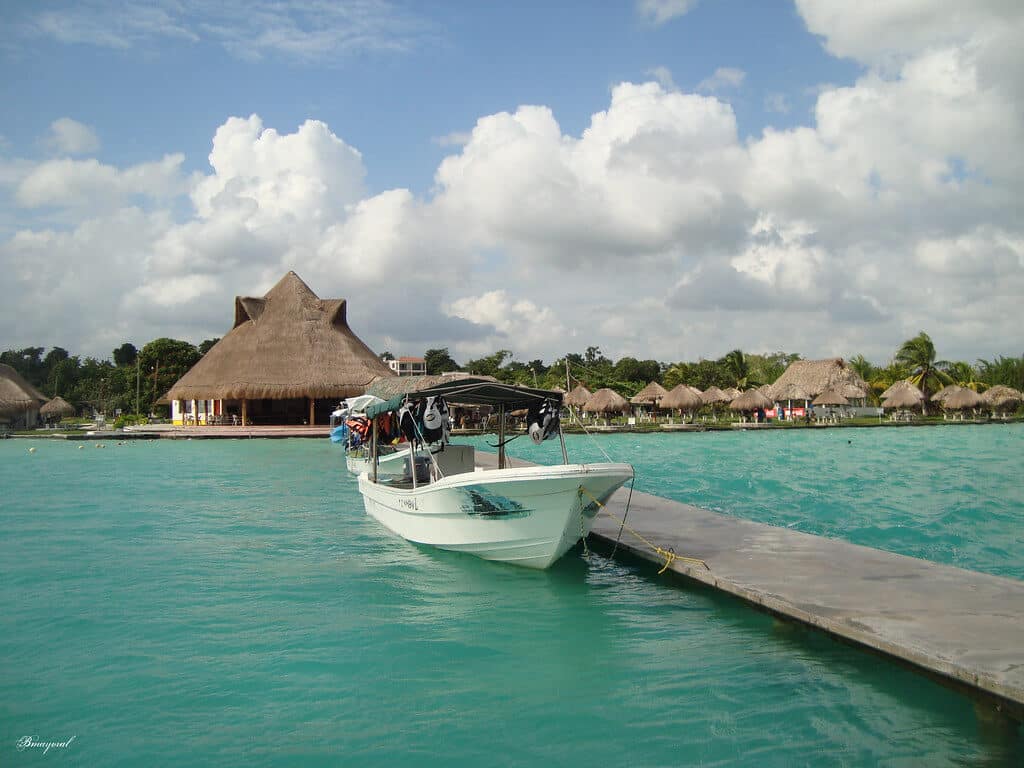 Tour Bacalar Lagoon by boat
Staring at the wonderful colors of Bacalar Lagoon from its shores is by itself a spectacle that you won't see every day.
However, your experience won't be complete if you don't explore this natural wonder by boat. This way you'll be able to appreciate its vibrant colors up close and enjoy a relaxing, yet exciting ride.
Here you can enjoy many water activities, such as snorkeling, scuba diving, kayaking, wakeboarding, and jet skiing. But, along the way, you will also find many places with their own history and charm.
Explore the Pirate's Channel
The Pirates Channel is the area of the Bacalar Lagoon where you will find the most crystalline shades of blue in the area. For an instant, you will think you are in the waters of the Caribbean.
This area owes its name to the fact that, centuries ago, it was the scene of multiple pirate attacks. Today, the only trace you can find of this history is a cement boat that was built, years later, to install a restaurant in the middle of the canal.
Fortunately, that project was interrupted to protect this place, but people can still climb to the top of the structure to dive into the sea.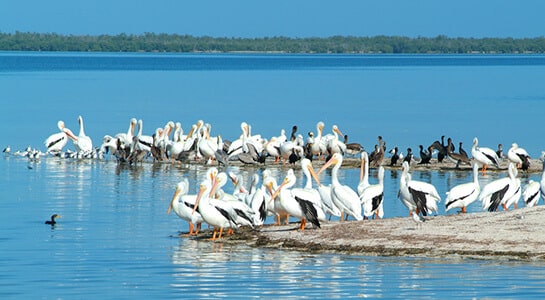 Discover the Bird Island
The Bird Island is another spot you cannot miss during your expedition in Bacalar Lagoon. It is a small island that is part of the lagoon system where you will find a large amount of vegetation and hundreds of bird species.
The best time to visit the island is early in the morning, so you can observe beautiful birds such as the snail hawk, herons, parrots, calandrias, among other species.
It has been a protected area for many years, but witnessing it from a few meters away is quite a spectacle. In addition, if you are a lover of animal photography, you will find here the perfect opportunity to grow your gallery.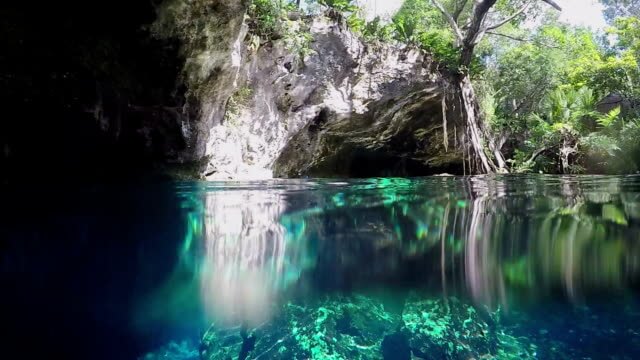 Dive into the magical cenotes
If you're particularly into diving, here in Bacalar you'll also live the adventure of submerging in the fresh and crystalline water cenotes.
Laguna Bacalar has up to seven cenotes, where you can swim, snorkel and dive. One of the best known is Cenote Azul. Although its waters are slightly darker compared to others, you can enjoy the company of thousands of colorful fish.
Another excellent option is the Cenote Negro or Cenote de la Bruja, which has a natural cliff almost 300 feet high. Here you can also explore the depths and see how the waters change from turquoise to a deep, dark blue.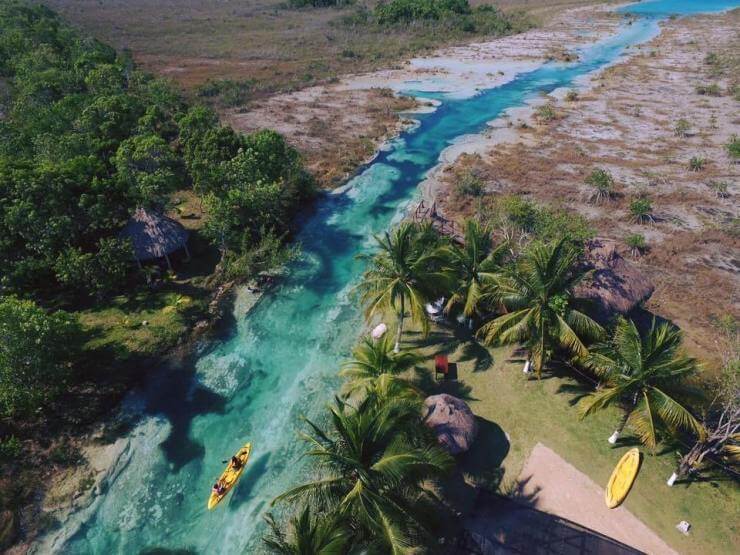 Ride the Bacalar rapids
This is a strait in Bacalar Lagoon, right at the point where it connects with its sister, the Xul-Ha Lagoon.
At this junction there is a constant flow of water, which makes it an ideal spot for kayaking. However, we don't recommend swimming in the canal, the current can be very strong and you might end up very tired.
Despite that, the Bacalar Rapids are also perfect to relax and enjoy the beauty of Bacalar's waters and nature in general.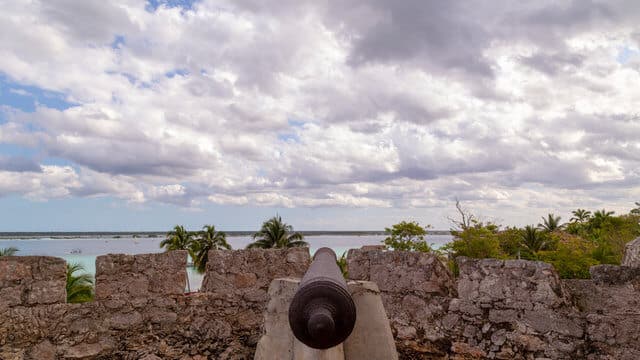 Visit the San Felipe Fort in Bacalar
If you are a history buff, we highly recommend you visit the San Felipe Fort in Bacalar, one of the last legacies of Spanish military architecture in Mexico.
This fort was built in the 18th century to protect the community of Bacalar from the attacks of English, French and Dutch pirates. Its walls, made of marine and volcanic rocks, were witness to countless historic battles.
Today, the fort is home to the San Felipe Museum, which narrates all these stories through documents, maps and drawings that show how the invading ships ran aground in Bacalar Lagoon.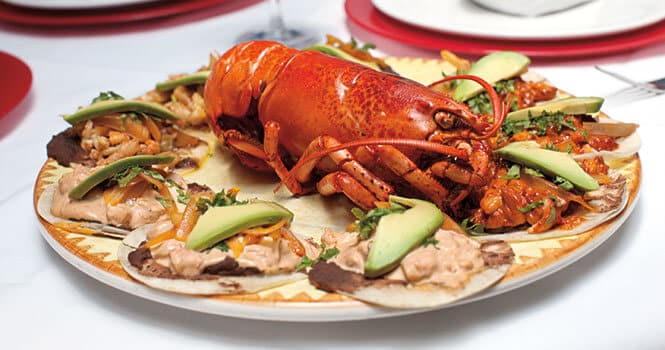 Taste the greatest seafood in Bacalar
Visiting all these sites is sure to whet your appetite. Luckily, Bacalar's seafood has nothing to envy from other cities.
Here you can taste a wide variety of lobster-based dishes, from charcoal-grilled lobster to lobster pizza (yes, we're not kidding).
You'll also find traditional Mexican food options prepared with fresh and colorful ingredients. You can even try vegan dishes as well.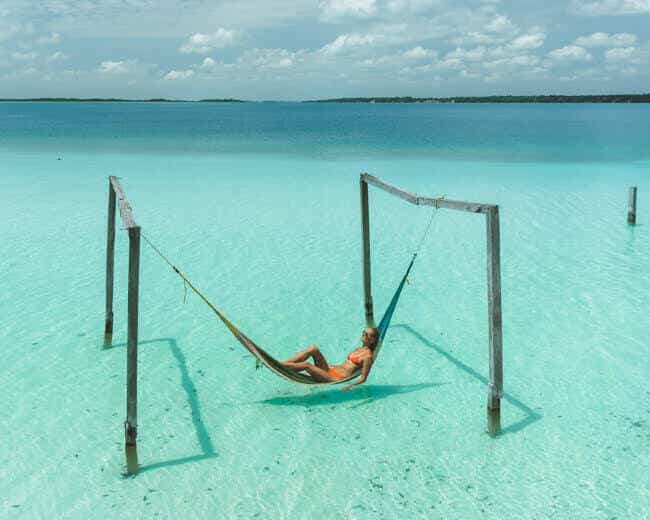 Quick travel tips for the best experience in Bacalar Lagoon
With so many places to explore and so much to enjoy in this magical town, we've prepared some quick travel tips so that you can make the most of your vacation in Bacalar Lagoon.
Preserve nature: Laguna Bacalar remains a true paradise because it is a protected environment. In that sense, you'd better avoid littering, spilling liquids in the water or using toxic sunscreens before entering the water. This way, its beauty will be preserved much longer.
Bring the right camera: If you are a photography lover, a waterproof camera will be your best partner during your tour. Also, Laguna Bacalar is a perfect place to take aerial photographs, so if you have a drone, don't hesitate to bring it with you to take the most amazing pics.
Arrive early: You'd better start your day as soon as the sun rises if you want to experience as many adventures as possible. Also, booking a private tour will be a great help to save time and avoid crowds.
Pack plenty of insect repellent: As you know, tropical areas with large water formations attract mosquitoes. Unless you want to end up full of bites, it is best to carry as much insect repellent as you can.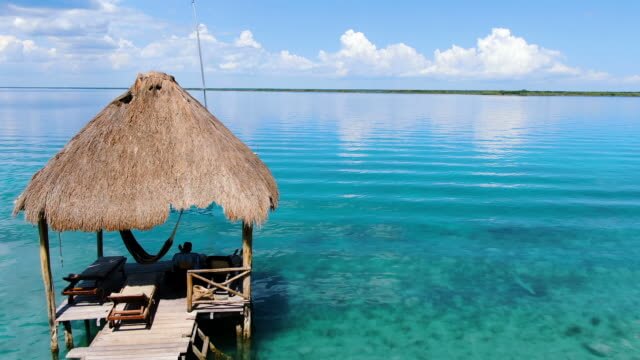 Are you ready to explore this Caribbean magical jewel?
Little by little, this gem of a town is becoming more and more well known, but it is still an ideal alternative for living an exclusive yet humble travel experience.
Now that you know everything you need to enjoy exploring the Bacalar Lagoon and all the attractions that surround it, it's time to choose your best company and design the ideal itinerary that fits your schedule.
With our private tours you'll have the best guidance all the time, but also you'll be able to live the most complete experience in this magical town.