Tulum: A Quartet of Bohemian Beach Life, Value for Money, Ancient Mayan History and Luxury Lifestyle
Gorgeous white-sand beaches, friendly and easy-going locals, good food, relaxation and spirituality are some of Tulum´s timeless and simple pleasures. Once a sleepy hippie outpost, Tulum has become a popular destination for those searching for a relaxing and close-to-nature vacation. There are actually four places collectively referred to as Tulum: The trendy yet casual beachside and hotel zone, the authentic and cheap pueblo where locals mix with travelers, and the world-famous archeological ruins –the only ones facing the Caribbean Sea. Most recently, there is a new urban development that is changing the face of Tulum, Aldea Zamá, located between the pueblo and the beach, has new boutique hotels, edgy apartments and renovated urban infrastructure.
The Beach and the Hotel Zone
The lure of this Tulum is hard to describe. The lush jungle meets powdered-sugar beaches, separated only by a narrow road smattered with small hotels, restaurants, bars and boutiques, but with a distinctly unplanned, bohemian ambiance; Tulum's beaches are pure nature. This is not a cookie-cutter centrally planned hotel zone, but rather a magical place where the local businesses have grown organically, with a distinctly Caribbean feel. Here it would not be unusual to see an unbathed backpacker eating fish tacos next to a well-healed Hollywood executive in custom tailored chinos.
You won't find any high rise resorts in Tulum; hotels remain shorter than the tallest palm tree, they are rustic and in tune with the natural world: sea breezes instead of air conditioners, candles over neon lights, and fresh seafood (real 'fresh') before the corporate chain restaurant. In its core there is a mix of boutique hotels ranging in price from around 400 USD a night to the modestly priced 80 USD cabañas, and even camping areas (30 USD to pitch your tent for the night) but today you also find luxury hotels that go above USD1,000 per night. Due to the limited electrical infrastructure, this part of Tulum is partially off the power grid, and electricity is cut off around 10:00 p.m., but the blossoming 'eco-chic' hotels and cabañas either have solar power, wind power, or alternate generators which will kick. Some hotels though, only have candles or torches after the power is off, providing a nice atmosphere and sticking to their eco-friendly and sustainable tourism philosophy. For the same reason, there are no TV or telephones in most places, but who needs TV when you can gaze at the stars from a lounge chair on your private terrace, right next to the Caribbean?
Tip: If you keep driving down south on the beach road, you'll eventually reach the main entrance to the Sian Ka'an Biosphere Reserve (UNESCO World Heritage Center), definitely worth a visit if you have a day free.
The fact that Tulum is laid-back and relaxing does not mean it lacks activities. From November to May conditions are near perfect for kite surfing, with air and water temperatures ranging from  20°C to 28°C (68°F and 82°F). Wind blows between 15-20 knots in January and February and between 12-18 knots the rest of the season. Depending on the beach and the weather, you can find tranquil flat waters, or 1.5m waves –ideal for light surf or wave sailing. Tulum it's a great spot to learn how to conquer the waves, jumping and executing tricks. If you're a beginner or have never tried kiting, don't worry because there are several kite surfing schools where you can hone your skills. Open water diving is less popular than in other places along the Riviera Maya, but this area is well known for cave diving; experienced divers can explore some of the longest cave systems of the world, for example "Ox Be Ha" which has 134 km (83 miles) of mapped passages. (See our blog on Cenotes & Underground Rivers for more information.)
If you're coming to Tulum to get back to the basics, relax and meditate, you won´t be disappointed, as there are many yoga centers and hotels offering classes. Tulum is home to many people searching for a change; come to be closer to nature and the simpler pleasures of life. Yoga, holistic medicine, organic food and communing with nature is the "all-inclusive" package offered here.
El Pueblo
In past years, the beach hotel zone of Tulum was known as a budget traveler's paradise. But word spread fast. While budget accommodations still exist, with the discovery of Tulum by the New York and Los Angeles fashion and entertainment crowd, prices for food and lodging have risen substantially. If you are on a tight budget but don't want to camp then the town of Tulum might be your best choice, offering cheaper, yet comfortable places to stay and eat. In the town you can find a variety of hotels, hostels, bed and breakfasts, all with reasonable prices (it shouldn't be over 50 USD). However, if you want to relax and enjoy the beach to the fullest, paying a little more to stay on the beach is worth it.
Tulum town has about anything you might need for your travels, from groceries and gas, to banks and pharmacies, internet cafes and even language schools if you want to practice your Spanish. There are plenty of restaurants to choose from, shops to browse and tour operators to contact for information or organizing a daytrip. As they say in the real estate world, it's all about location, location, location. 'El Pueblo' (as we call it) is used by many travelers as a base for their trips around the Riviera Maya because of its central location and its low prices.
El Pueblo is only between a 4,50 and 6USD taxi ride away from the beach, but a cheap and fun transportation option is to rent a bicycle; some hotels include bikes or taxi shuttle to the beach in their services. We do not recommend walking between the town and the ruins, it's a long, often hot and dusty trek, but if you're a runner, mornings are fine for a jog, and the path is wide and safe from traffic. On the contrary, the path between el pueblo and the beach has recently seen improvements for joggers and cyclist alike, there are jogging and bike lanes safe from car traffic and comfortable. With the development of Aldea Zamá, which we will discuss a few lines later, this path now has commercial activity and is very well kept.
Tip: If you are in El Pueblo, you can't miss the Batey Mojito Bar, diverse selection and great vibe. The seafood reasturant Camello Junior is also a must.
The Archeological Site
Archeology enthusiast or not, you definitely won't want to miss the ancient Mayan ruins of Tulum. Whether you prefer to explore alone or take an organized tour, anyone visiting the Riviera Maya should see Tulum, and take in a spectacular setting: the ruins are on a cliff, overlooking the Caribbean turquoise waters. Tulum is the only major Mayan site located right on the ocean. Its grayish-tan (once colored) buildings dominate a palm-fringed beach lapped by the sea's brilliant blue waters tones.
Tip: We definitely recommend getting there either early or late in the day if you want to avoid the crowds and the heat! Also, combine your visit to the ruins with a cenote, where you can refresh.
Archaeologists think that the original Mayan city may have once been called "Zama" which means 'City of Dawn', "Tulum" is a more recent name, which means 'wall', referring to the high walls of the city, meant to protected it from invasions. Believed to be an important trading route by both land and sea in pre-Hispanic times, it was discovered by a Spanish expedition led by Juan de Grijalva in 1518. It was one of the last Mayan cities to be built and also to be abandoned, many others were already abandoned by the time the Spanish arrived. You can't miss the Temple of the Descending God, a rare worship center with a unique asymmetrical façade where the deity depiction is upside down.
Explanations of the structures and history are thorough, and displayed in both Spanish and English. Infrastructure and maintenance at the site are excellent, and if you're really into archaeology you can always hire an expert to take you through the site to explain its history and importance to the Mayan people.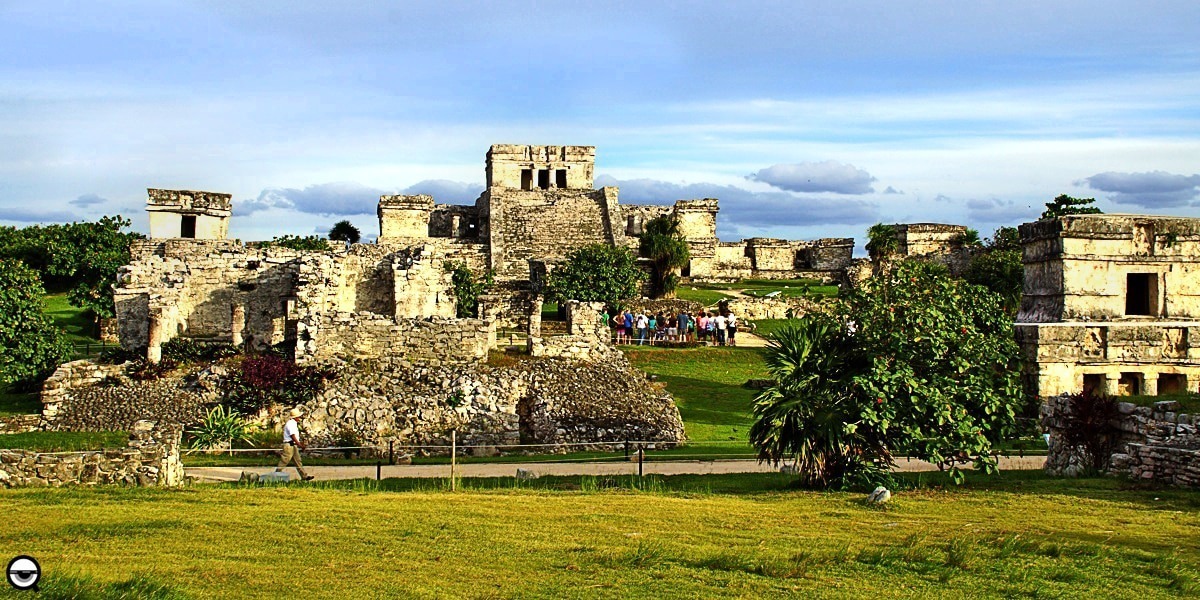 Aldea Zamá, The New Face of Tulum
Aldea Zamá is a new urban development is worth noting, on the edge of the jungle and the mangrove, the new boutique hotels and edgy apartments are a great alternative option for lodging in Tulum, especially if you are looking for a combination of luxury and nature. Aldea Zamá is revitalizing the real estate market of Tulum with modern Mexican design buildings and has modernized the path that takes you form el pueblo to the beach with new businesses, commercial activity and better walking and cycling infrastructure. This area is glowing and might be a good option for those searching for an accommodation between the beach and el pueblo and other activities of the Riviera Maya.
Extra Info
If you are staying in Tulum, the site itself is easily accessible by bicycle, car (parking on the mall nex to to the first entrance 8 USD), or taxi. If you are coming from Playa del Carmen you have several options: An organized tour, a car rental, a colectivo or a bus. If you decide to take the colectivo (around 2-3 USD) you´ll have to get off in the intersection of HW 307 and the road to the ruins. There are signs all over, but if you are unsure just tell the driver you are going "a las ruinas". Then just walk east until you see the outside entrance (about 800 meters walk). Taking the colectivo is not the fastest or most comfortable way to go, but it is the most adventurous! Once you are there, you'll find a commercial area with restaurants and shops, the admissions area is 1km ahead. If you are tired, you can take the 'train' ride for $25 pesos each way and save you energy for visiting the site.  Another inexpensive and convenient option is to take a bus that goes directly from Playa del Carmen ADO bus station to the archeological site, it´s only 5USD or so and you won´t have to walk as much. Admission to the site itself is about $70 pesos as of this writing.
Be sure to bring a camera, bottled water, sunscreen, loose comfortable clothing, good shoes, and swimming apparel if you want to take a dip in the ocean (yes, you can do this at the site ― the beach is quite nice, and in a spectacular setting).
In sum, Tulum is a unique place, where you can experience the thrill of water sports, nature, ecology, beachside relaxation, fresh seafood, and visit the only Mayan citadel by the sea — all on the same day or paced out to your liking. What else can you ask for?
Tip: I you are up for a Lagoon with a cenote, the Kaan Luum Lagoon is a must for you, and it's just 15 min south of El Pueblo.