If you are an animal enthusiast, picking a whale shark tour in Cancun is an extraordinary wildlife encounter that you definitely want to experience.
Whale sharks are gentle animals that can reach the incredible length of 50 feet on average. They really look like something out of a movie and swimming alongside them sounds surreal. 
Fortunately, none of these things are fictional and you can have this wonderful adventure taking a whale shark tour in Cancun.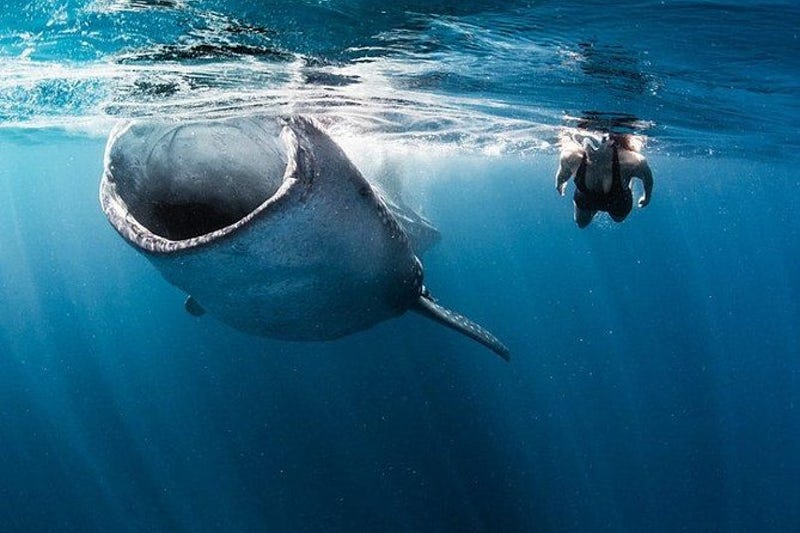 Live the ultimate swimming experience with whale sharks
These friendly giants come every year to the Mexican seas to have a buffet of plankton, krill and tiny little fishes.

And even when there are some other locations around the world in which you can swim with our giant friends, booking a Cancun whale shark tour be your best alternative.
Besides the unique experience of swimming with these amazing beings, here in Cancun you can enjoy many other activities, including visiting beautiful beaches and archeological sites.
These stuffs are cool, but we both know you're seeking to spend the time of your life with these kind ocean dwellers, so today I'm sharing with you 7 tips that will make your whale shark tour in Cancun an unforgettable one.
Tips to have the best whale shark tour experience
1. You're not on the menu
Maybe you've been thinking of this since the beginning of the article. Is there any chance of being swallowed by whale sharks? Thankfully, the answer is no.
Their size might be frightening, but you definitely won't be in danger at all while swimming with them. Actually, whale sharks cannot swallow anything larger than a watermelon, so there's no risk of being part of the menu.
2. Keep your distance
Yes, we all have got used to this practice due to the pandemic and when it comes to whale sharks, we'd better avoid approaching them so closely for safety reasons too.
Touching them is definitely not a good idea. As I said, they come all the way to Cancun to have a great meal, just like you and the rest of the tourists. Poking them could be very rude, but also a risk because they are vulnerable.
Also, you'd rather stay at least 10 feet away from them. Whale sharks can't eat you, but being swiped by their tails surely hurts.
Just be kind, follow your guide instructions and enjoy, only staring at them is still a lifetime experience.
3. It's all about timing
As any other species, there is a specific season when whale sharks migrate to Cancun shores and, of course, you'll stand a much better chance of seeing them picking your whale shark tour at that time.
Whale shark season starts in early July and runs to mid-September. You're likely to come on those days since the largest groups of these sea titans appear during that period of time.
4. Choose the right guide
Before you book a whale shark tour in Mexico, you should know that there are some general rules any reliable tour company will follow in order to offer you an amazing but safe adventure.
Well-prepared guides will always take small groups. You'll never find more than nine passengers per boat and only two people will be able to swim with the whale sharks each time. Of course, you'll be wearing life jackets all the time.
Don't worry if you missed some of your guide instructions. They will always be aware of you so feel free to communicate any doubt or rule.
5. Swimming technique
Apart from being touched, there are some other things that whale sharks don't really like when they have a visit from humans.
For example, these tender behemoths can get easily troubled when someone is under them and they don't think twice to dive down rapidly. In the same way, swimming directly in front of them or trying to block them can scare them away.
You just need to swim alongside them and remember free-diving is not a sensible choice.
6. As natural as you can
This could be a little bit ironic but, just like on a date, a bad smell —or in this case, a good one— can mess up the whole encounter.
Many products that we use every day to feel fresh and clean, like shampoo, deodorant or perfume, contain chemicals which can irritate whale sharks' eyes.
This includes sunscreens, so we must try to use just a little bit of it and, preferably, an eco-friendly one.
Or what is more, wear clothing which covers your entire body instead of using sunscreen. This is a better way to protect yourself from the sun, right?
7. You have to be patient
Nature is never a hundred percent predictable. Even when the coasts of Cancun always have the highest concentration of whale sharks in the world, there is still a possibility of not seeing any whale shark at your first try.
You don't need to feel pessimistic. Just be patient, prepare for a long day and plan some extra free days in your holidays so that you've got more chances to experience this wildlife adventure.
8. Don't lose your sight
Any aquatic adventure always requires some essential gadgets.
Unless you want to miss the opportunity of gazing at the magnificence of the whale sharks, you'd better pick professional snorkeling equipment.
For instance, if you don't have the right visors, they will fog up and you won't see anything.
But, don't worry, if you've booked your whale shark tour with My Quest Concierge, you'll be covered: our guides will bring all the gear you might need to enjoy a complete experience.
3 Super Bonus Tips for the best whale shark tour by our local guides
Even when there are many details to consider, the experience of swimming with whale sharks is worth all the effort. Therefore, here are 3 more extra tips by our true local experts in My Quest Concierge that will be very helpful.
Arrive early. Your whale shark experience will be truly unique if you're one of the first to arrive. My Quest Concierge private tour will start as soon as the sun rises, so you'll have an exclusive wildlife encounter with no extra people.
After the moonlight. Whale sharks are likely to appear more in large groups after a moonlight night as the organisms that compound its diet tend to emerge during that time. That means there are more chances for you to see them the day after.
Capture the moment. As I said, aquatic adventures demand special equipment, including waterproof cameras. But, if you couldn't get one, don't worry, My Quest Concierge will save you once since our private tours include a professional aquatic photography service.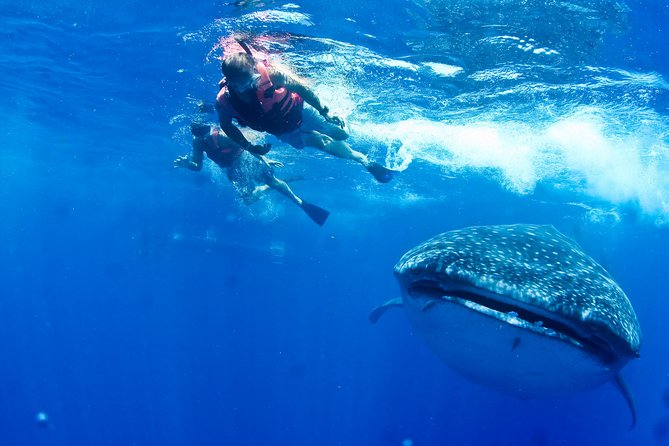 If you feel ready for this amazing wildlife adventure, now you can choose the best company
The next whale shark season in Cancun is just around the corner and if you want to make this experience something memorable, choosing a private tour with the right guidance is the key.
For that reason, we recommend you booking a whale shark private tour in https://myquestconcierge.com/. Our certified team of local experts are fully committed to bring you more than a tour.
On My Quest Concierge, we want you to live an unforgettable encounter with these fantastic animals, all in capable hands.