Playa del Carmen: local tips for a local quest
Playa del Carmen (or simply 'Playa' as we call it) is not a typical resort complex or tourist destination. Playa is vibrant, funky and fun. Due to its regional importance and international recognition, it offers a wide variety of cultural activities. Playa is the heart of the Riviera Maya – a small sophisticated bohemian city, it was recently voted the cleanest municipality in Mexico and it is pedestrian and cyclist friendly. There is no shortage of activities to enjoy, ranging from the simple pleasure of reading a book on a beach to letting your hair down on the dance floor or taking a jungle expedition. For all these reasons, if you visit Playa you will find it difficult to leave.
Twenty years ago Playa del Carmen was just a sleepy fishing village, visited only by adventurous tourists from Cancun who stopped briefly before taking the passenger ferry to Cozumel. Now, it boasts a population of more than 175,000 permanent residents and 115,000 tourists per day, more than 500 restaurants (some of which are internationally renowned), world class boutique hotels and five-star resorts, spas, galleries, bookshops, and music clubs. All of which is testament of the special allure of the Mexican Riviera. In short, Playa has it all.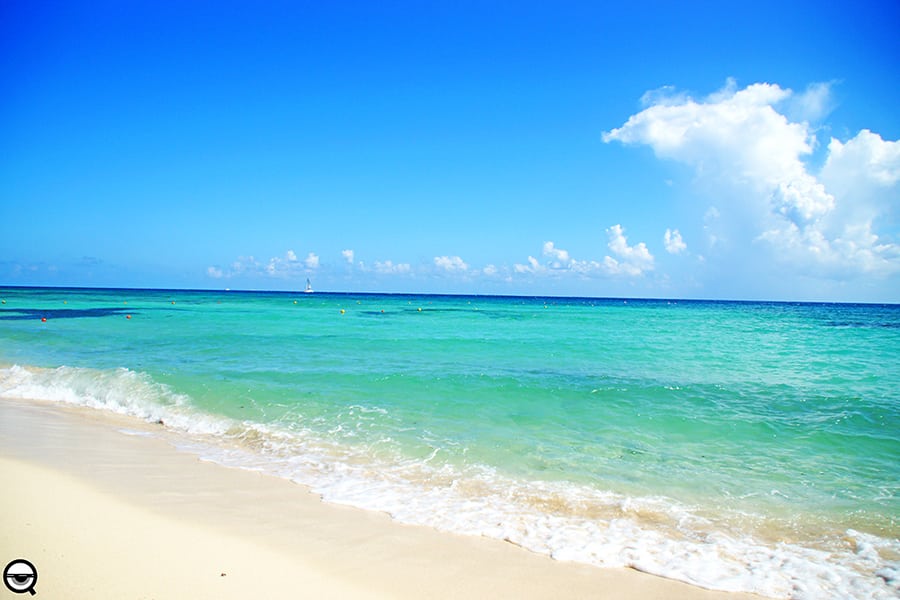 Location and getting around 
Located between Cancun and Tulum, Playa sits at the very heart of the Riviera Maya, making it a good 'base camp' for exploring the many different areas and activities along the coast.
Getting around Playa is relatively cheap and efficient, with taxis seldom costing more than $8 USD, and shared taxis (colectivos) costing just pennies. If you are downtown everything is within walking or biking distance. It can be fun to rent a bike or scooter for a day or two and take an occasional
If you are travelling with your family or a large group, or plan on taking a road trip to different points along the Riviera you might want to consider renting a car. Remember buses and colectivos will also take you anywhere along the coast and there is always the option of an organized tour.
Quinta Avenida and Night Life
If Playa is the heart of the Riviera Maya, then La Quinta Avenida (5th Avenue, or simply "La Quinta") is the heart of Playa. The exciting vibe of this pedestrian street is palpable in every corner. Parallel to the beach, the street is filled with sounds, you will feel inside the Tower of Babel: people speaking English, Spanish, Italian, French, Russian, German, Portuguese, and of course the universal sounds of laughter, music and Mariachis!
It is here on La Quinta (or close by) where you will find the bulk of eating, drinking, shopping and entertainment activities. In the mornings, La Quinta is quiet and perfect for a morning stroll (or a jog) and a good breakfast. In the evening, restaurants, bars, cafes and shops come to life. At night, it fills with both dinner and partygoers. If you are looking for good party, you can't miss the nightlife on Calle Doce (12th Street).
In La Quinta you will find jewelry stores, souvenir shops, clothing outlets, Cigar stores and many attractions that fit all styles and budgets. Thursday evenings, local artists display their work on the street, from Avenida Constituyentes to Calle 32; this open art gallery called Caminart is a great opportunity to find an original work.
The food Scene
In Playa, Mexican and foreign chefs bring both creativity and authenticity to their menus. Whether it's Mexican, Italian, French, Cantonese, Thai, Mediterranean, African or Arab, there is plenty of choices, and in all price ranges. Additionally, Playa hosts several food and wine festivals each year, with internationally recognized chefs and wine experts.
If you are looking for authentic and delicious Mexican food, you'll find a wide variety of local restaurants with various regional specialties, including traditional Yucatecan dishes, fresh seafood, and high-end Mexican cuisine. Also, don't miss out on traditional Mexican street food, this is where the bold flavors and colors of Mexico really live. From traditional tacos al pastor to succulent cochinita pibil, if you're for tacos, go to our favorite taqueria, La Floresta, you won't be disappointed. For an off the beaten path culinary experience go to Avenida Treinta (30th Avenue) and Avenida Constituyentes where you will find cheaper traditional restaurants.
Activities
No matter where you're staying, no matter what your interests are, and no matter what your budget is, in Playa you can fill your days with as little or as much activity as you like. Every type of water sport is available, such as jet skiing, kayaking, and kite surfing, just to name a few. All beaches are public, and many beach clubs have swimming pools and restaurants, so if your idea of a busy day is lounging, eating, drinking, and reading a book, this is the place for you.
Need more options? You can take an organized tour, visit cenotes and underground rivers, ride a horse on the beach, explore ancient Mayan ruins and archeological site, sail, dive, ride an ATV through the jungle or visit one of the islands.
Lodging 
There are places to stay to meet any budget in and nearby Playa. These options include luxury all-inclusive resorts, traditional hotels, boutique hotels, motels, hostels, apartments, condominiums, villas, and vacation homes for rent.
Traditional Arts and Crafts 
In Playa there are lots of tourist shops where you can pick up souvenirs, ranging from the classic coffee mug or t-shirt to truly unique works of art. The ancient Mayans were skilled artisans, carving in both wood and stone. And while much of Mayan history has been lost to time, this artisanship still survives in the forms of precious fabrics (hamacas, huipiles, skirts), carvings of mystical figures, ceramic vases, bejuco decorations, traditional dresses, ceremonial masks and Mayan calendars.
Every third Saturday of the month, Parque La Ceiba hosts a tianguis (flea market) where, among many other cultural offerings and organic products, local artisans sell their works. If you're looking for something unique and not available in a typical souvenir shop, this is the place to browse. The park is child friendly, hosts shows and workshops, food and soft drinks are sold and there's no admission fee. Check our section on Events and Festivals for more information.
In a Nutshell 
Even though Playa is growing, it is not a mass market glass-towered tourist Mecca like Cancun, here you will access to an authentic and safe Mexican experience, because of its delicious food, rare artisanship, vibrant nightlife, relaxing beaches, friendly locals and tons of adventurous expeditions, Playa has a charm and a magnetism that pulls people in and makes them smile for no particular reason.